Android Auto™ vs. Apple CarPlay®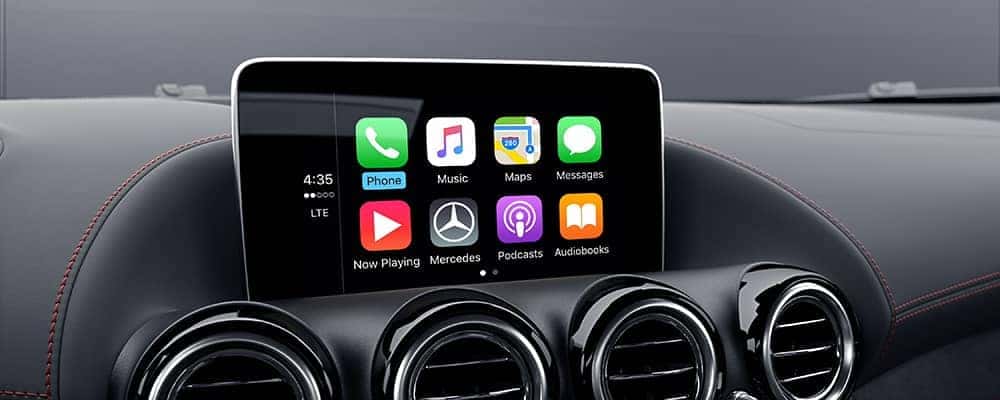 It should come as no surprise that Android Auto™ and Apple CarPlay® operate similarly, but they're differences are worth noting. Chances are, if you have an iPhone® or Android, you'll gravitate toward Apple CarPlay® or Android Auto™, respectively. Still, it helps to know what to expect. Here's a quick Android Auto™ vs. Apple CarPlay® comparison.
Availability
When Apple CarPlay® and Android Auto™ first launched, they were only available in cars manufactured by launch partners. Now, they're offered in select vehicles from Mercedes-Benz, such as the C-Class, E-Class, GLE, and GLC. Other top automakers like Volvo, Audi, and Lexus also offer Apple CarPlay® and Android Auto™. Both systems are usually packaged together, so drivers don't have to switch operating systems to get the car they want.
Interface
See how Android Auto™ and Apple CarPlay® compare in the following categories:
Navigation: Android Auto™ uses Google Maps, while Apple CarPlay® uses Apple Maps. Both systems are incredibly powerful, offering turn-by-turn directions and voice control, but neither allow drivers to use a third-party navigation software, such as TomTom®.
Audio: Both systems work with many of the same audio apps (such as Spotify®), but Android Auto™ offers a broader selection that includes Tuneln®, Amazon Music, Audible, and more.
Voice Control: For convenience and safety, Apple CarPlay® and Android Auto™ include voice assistants—Siri® and OK Google. You can use both systems to control the infotainment system via voice, but only Android Auto™ works with Skype and Hangouts.
Compare Android Auto™ vs. Apple CarPlay® Near San Diego!
All in all, Android Auto™ is the more inclusive system, while Apple CarPlay® offers a familiar experience for Apple users. What it all comes down to is preference. Schedule a test drive at Mercedes-Benz of Temecula to try out these two systems for yourself—and experience the luxury and capability of the Mercedes-Benz lineup. Look for us near Escondido!