The 2017 Mercedes-Benz Sprinter Worker Van
2017 MERCEDES-BENZ
Sprinter Worker Van
Mercedes-Benz Sprinter Worker Van Offers and Description
Starting at $33,995, the 2017 Sprinter Worker is an affordable vehicle that's ready to meet the demands of your Escondido business. Designed with you in mind, the new Sprinter Worker offers all of the versatility you'd expect from Mercedes-Benz, as well as:
Turbo-diesel engine power
Cost-effective 20,000-mile service interval
Schedule Your VIP Test Drive Today!
Commanding Performance
When it comes to commercial van performance, the 2017 Sprinter Van is a pack leader. Some of its performance specs include:
Rear-wheel drive
3.0L turbo-diesel V6 engine
188 hp and 325 lb-ft of torque
5-speed automatic transmission
Fuel tank capacity of 24.5 gallons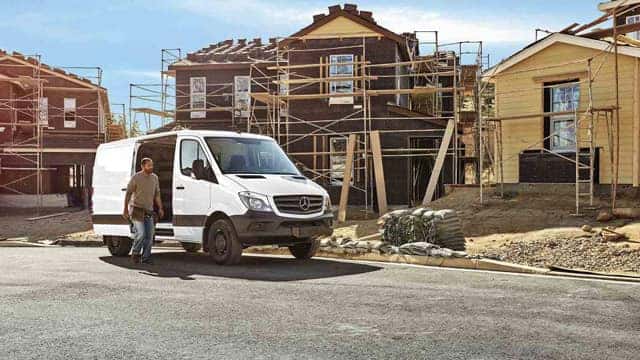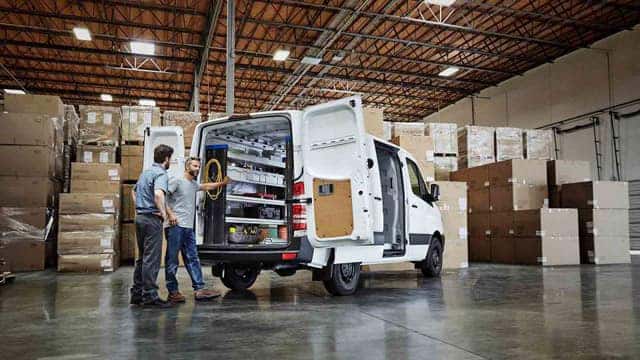 Capable & Versatile
A perfect choice for a multitude of industries, the two-person Sprinter Worker Van is a durable workhorse. Its capabilities make it a great choice for Murrieta and Menifee businesses of all stripes. Here's a quick look at some of the Sprinter Worker Van's dimensions and capacities:
319.1 cubic feet of cargo space
Cargo floor length of 137.4 inches
Payload capacity of 3,512 pounds
Towing capacity of 5,000 pounds
Smart for Business
The Sprinter Worker Van is more than a company vehicle; it's your mobile office, keeping you connected to your home base while you're out and about.
Bluetooth®* phone and audio connectivity
Multi-functional steering wheel
Adjustable steering wheel for height and reach
Power front windows
Optional bumper step-up
Sliding door on right and optional sliding door on left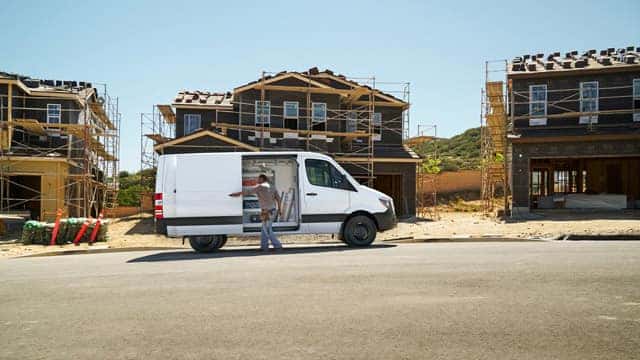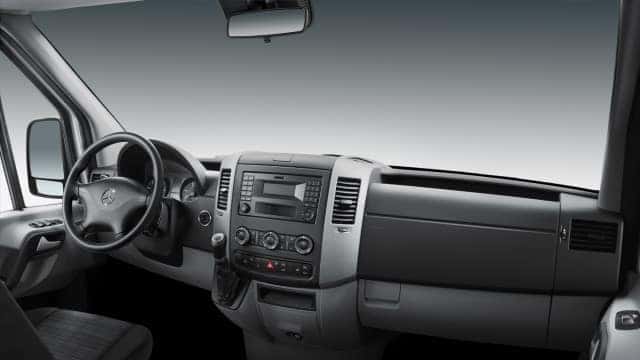 Safety
The 2017 Sprinter Worker Van is loaded with innovative standard features designed to keep you on the road and help you arrive safely at your destination, such as:
Load-Adaptive Electronic Stability Program (ESP®)—is a dynamic handling system that has the ability to intervene and keep your Sprinter Worker under control.
Crosswind Assist—helps to stabilize the van during strong, gusting winds, whether caused by passing trucks or geographic features.
Rescue AssistSM—allows first responders to scan a QR code on the Sprinter to pinpoint batteries, airbags, and other key components.
Choose Your Sprinter Worker Van Today!
The 2017 Sprinter Worker Van is available right here at Mercedes-Benz of Temecula, serving Los Angeles, San Diego, and nearby areas. If you have questions about the Sprinter Worker Van's capabilities, or financing options, contact us today at (951) 225-1011. You can also schedule a test drive online!