North San Diego
If you've been waiting for the perfect time to invest in a new luxury car, you've picked the perfect moment. Thanks to the many breathtaking technological innovations of the past few years, there's never been a better time to sign your name on a Mercedes-Benz SUV lease or pick up a brand new A-class Mercedes. Whether you're used to owning luxury cars or this is your first time behind the wheel of a Benz, you'll feel the difference immediately. There's a reason Mercedes is in the top of its class for safety and sustainability. Both the Mercedes GLE and the GLC were named a top safety pick by the Insurance Institute for Highway Safety just this year. That's not the only reason to invest in a brand-new E-Class Coupe or GLE series. With incredible AMG® variants offering unparalleled speed in the GLE models, plug-in and battery cell hybrids that give off zero emissions, and extra-quiet interiors for noise-sensitive drivers, the new class of Mercedes-Benz vehicles leave absolutely nothing to be desired. If you're seeking a new ride, head to your nearest Mercedes-Benz dealer in North County today for the best lease deals on G wagons, coupes, and 4-door sedans.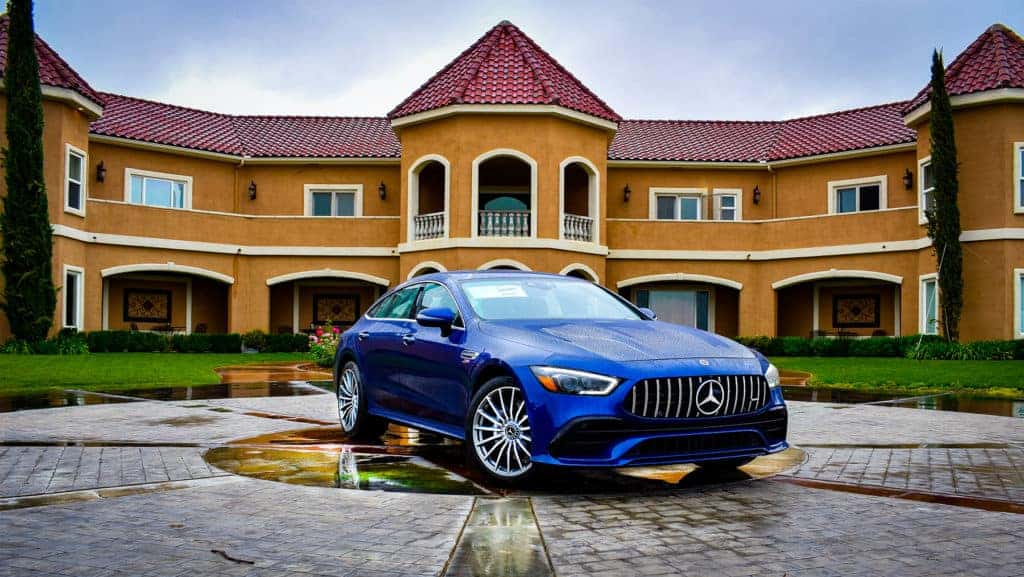 Putting the Power of a Mercedes-Benz in Your Hands
It doesn't matter if you've gotten behind the wheel of a top-tier luxury vehicle before. The features, feel, and extra perks of a Mercedes A-class or GLE series will make you feel right at home. The ease of use and autonomous features will help even the most inexperienced drivers make safer, better choices on the road, while connectivity features like the Mercedes Me Connect app help drivers sync up home security settings, easily access GPS and maps, and stay protected from distractions. Newer features include better rear visibility for a more controlled on-road experience as well as ease with getting in and out of narrow, hard-to-park-in spaces. Simply put: A Benz gives drivers access to new sights, experiences, and even parking spaces thanks to a completely streamlined design and award-winning, safety-optimized features.
Finding New Things to Love About North San Diego
Exploring the hidden gems and secret spots around North County has never been easier than with a brand-new Benz. Any Mercedes dealer North San Diego will let you in on the many perks of owning a new A-class Mercedes, a 2019 New G Wagon or a GLE class. Your new car isn't just about getting from your home to your workplace and back again. When you drive a Mercedes, you're not just driving an ordinary vehicle. The advanced technology of a Benz means having the capabilities to truly explore North San Diego, no matter how rough and muddy the terrain gets. Thanks to the new G wagon, you can tackle any off-road situation with ease and style. If you're someone who likes their cars a bit more modern-looking, consider a 4-door sedan, which will give you all the ease of a classic Benz with even more space for rideshares, pickups, and hitting the trail with your tent in tow.
A History of Excellence
Since the early 20th century, the name Mercedes has been synonymous with high quality, reliable cars that prioritize craftsmanship and quality over bells and whistles. The times may have changed, but the quality of the cars, as well as the brand's commitment to safety, durability, and luxury have only strengthened with time. It doesn't matter how much has changed since Carl Benz created the first luxury car. Safety, style, and speed never go out of style. When you invest in an E Class Coup, a GLE class or a CLS class Mercedes, you're giving yourself the power to take life on, no matter what the road ahead brings.
The New Mercedes E-Class Coupe: Quality You Can Trust
Speed isn't everything, but it does count for a lot, especially if you're a driver who loves feeling the thrill of that nearly-instant zero-to-sixty ramp up. The Mercedes E-Class coupe models promise an AMG®-enhanced engine that can propel drivers up tough hills with ease thanks to a 362 horsepower engine and 369 feet of torque. In the new E-Class, drivers can achieve zero-to-sixty acceleration in five seconds. That means that you won't ever find yourself lagging behind. You can also enjoy adaptive high beams, LED headlamps, and other automated features that take the pressure off the driver to make the cruising experience as enjoyable as possible.
Explore North San Diego in a Stylish New Benz
You know the beauty of North County well. Why should it stay hidden? From the stunning beauty of Moonlight Beach to the scenic loveliness of San Elijo beach at sunset, you don't want to miss out on the natural beauty that's right in your own backyard. Being behind the wheel of a Benz means getting out there and spending more time doing what you love. Thanks to better safety and hyper-connected smart features that make it easier to stay safe and alert on the road, you can take off on more day trips, night drives, and joyrides than ever before. Don't let the beauty of North San Diego pass you by. Find new ways to enjoy your home and experience everything the thriving city has to offer in your new Benz.
Forging New Territory in Your MBenz
If you've already headed to your Sprinter Service Center to check up on Sprinter Specials, New GLE Mercedes models, or Mercedes lease specials on offer, you're already moving in the right direction. Thanks to so many recent innovations, you can make driving a guilt-free experience. Mercedes is committed to creating sustainable, zero-emission vehicles that take you where you want to go without sacrificing air quality. With so many low-emission hybrids and electric vehicles out there, you can find the perfect eco-friendly Mercedes model for your needs without having to look too hard. Ask your North San Diego Mercedes dealer about a lease special today, before you miss out on all the incredible deals in your area.