Spending the Weekend in Seaswept Carlsbad
Whether it be an indulgent three-day vacation with you and your best friends or a romantic and luxurious getaway with your partner, we have the inside scoop on all the best dining, excursions and must-see's to ensure your time along the sunny California coast a total success.
Broken down into categories, below are the top must-dos and haves of your upcoming trip.
When Dining
Because of Carlsbad's unbeatable location, as you guessed, it boasts some of the best seafood and fresh meat around. A fine-dining hub, with major points for location, you won't be disappointed eating out in this stunning seaside town. Here is a list of some of the top restaurants to enjoy.
Bob's Steak and Chophouse
Conveniently located on-site at the Omni La Costa Resort and Spa, this top-rated restaurant boasts "Texas-sized portions of the finest in steaks, chops, and seafood and sides".
Blue Ocean Robata and Sushi Bar
One of the trendiest, and most aesthetically impressive local sushi gems in town, Blue Ocean offers a myriad of sushi rolls, small plates, and contemporary dishes to pair with a fully stocked, brilliantly artful cocktail bar.
Stop by the Coyote for a craft cocktail and delicious food while you enjoy some live music amongst the modern decor and great ambiance.
State Street Farmers Market
This Farmer's located on stunning State Street goes year-round every Wednesday from 3:00-7:00 pm. Explore the vibrant local scene and enjoy some of the freshest produce and ready-to-eat hot food around.
While Relaxing
You're constantly on the go, jetting around from one excursion to the next during your weekend getaway- which leaves you understandably exhausted and in search of some necessary rejuvenation. Luckily, Carlsbad offers some of the best resort and spa facilities in the country. Here are just a few of the most tantalizing oasis around.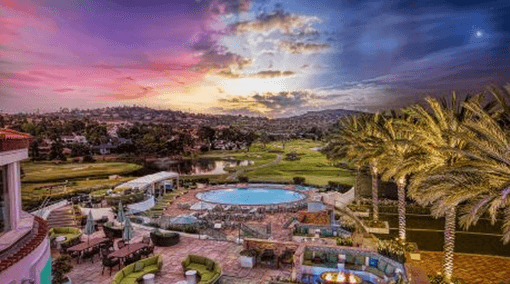 Cape Rey (Ocean Crest Spa)
Enjoy your stay at the resort with your loved ones. Head over to their world-class on-site spa- situated right on the beautiful coast of Carlsbad. Boasting breath-taking ocean views and all the best amenities, this spa awaits to ease your mind, rejuvenate your senses and deeply relax you.
Omni La Costa Resort and Spa
This award-winning full-service Lux spa boasts eight sparkling pools, seven restaurants, and dining options, along with two championship golf courses- for him and her to equally enjoy the stay.
For Entertainment
What better way to spend your exciting trip by the sea indulging in the wonderful entertainment Carlsbad has to offer? From Horse Racing to Wine tasting, you won't run out of ways to spend your time this trip!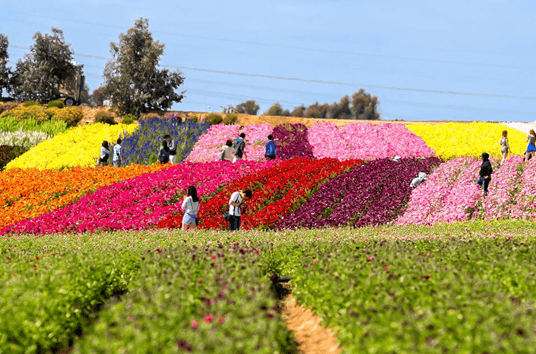 Visit the Del Mar race track to witness exciting feats in horse racing. With roughly ten races per day, this thoroughbred horse racing track hosts major meets & has stadium seating, track side dining & suites. A great place to spend the afternoon enjoying the outside arena and bustling atmosphere.
The Carlsbad Flower Fields
If you happen to be vacationing during the spring, there's a good chance you'll make it in time to see the stunning seasonal bloom at the Carlsbad Flower Fields. Head over to this sprawling acreage of Intercollegiate Rancorous, which is one of the finest strains of rancorous plants in the world. A jaw-dropping sight and striking backdrop for some serious photo opportunities, this is not something you'll want to miss!
The Crossings At Carlsbad
This championship 6,835-yard public golf course was designed by Greg Nash and features varied terrain and exciting options to challenge golfers of all skill levels. Boasting 18-holes, The Crossings is situated among a striking natural habitat and open to wildlife on more than 400 acres of Carlsbad's coastal terrain.
Experience Luxury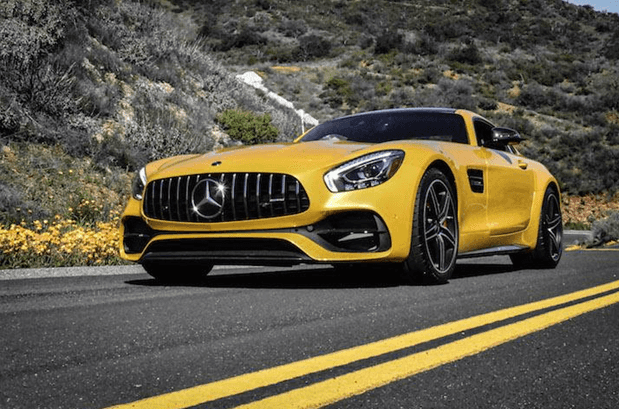 At Gems of La Costa Jewelers, pick out a stunning gift for your significant other. Whether it be for a special occasion, simply a new custom design, or with the intention to pop the question- you can find all of your jewelry needs here. Specializing in repairs, these master jewelers on-site with 30+ years jewelers experience are more than happy to cater to your needs individually.
Mercedes Benz of Temecula
Looking to update your ride and treat yourself to a striking new set of wheels? While you could simply head over to the local dealer in Carlsbad, Mercedes-Benz Del Mar or various Mercedes Dealer in North San Diego, we suggest a more luxurious experience and a much wider selection of top-end vehicles suit your unique lifestyle. Indulge in the breezy 45-minute drive through the beautiful landscape en route to Temecula. Past many a vineyard and back country road, you won't be disappointed. Arriving at Mercedes Benz of Temecula, you'll be treated like family and greeted by one of our staff members ready to show you a variety of models best suited to you. Check out our series of A Class lease specials Mercedes, Sprinter Specials and New GLE Mercedes. Enjoy our full-service cafe, weekly car washes on us, and the largest variety of vehicles in Southern California. Another huge perk of this Mercedes Dealers Temecula CA? A complimentary stay at the Ponte Winery Inn when you purchase the next car of your dreams.
Ponte Winery and Vineyard
Appealing to the luxurious romantic, this aesthetically rich Inn was rated Top 10 Hotel in America, #2 in California and #1 hotel in Temecula as rated by Trip advisory. Break-in your brand new ride on a stunning drive throughout Wine County to this gem situated amongest the sprawling vineyards and picturesque landscape of Southern California. Relax by the semi-Olympic sized pool and awaiting hot tub, with acres of tantalizing grapes as your backdrop. Order from the poolside bar and cafe or dine in at one of their three unique restaurants, each offering delicious, vineyard-inspired menus and dishes that focus on fresh, seasonal and local ingredients.
Of course, there's always the classic beach day and obvious shopping at awaiting premium outlets. But why not add a bit of luxury and novelty to your vacation? With these decadent options, there won't be any need to worry about how to spend your time in beautiful Carlsbad. Grab your friends a (and swimsuits of course) and enjoy this dreamy seaside getaway.
Content & SEO Services ?by I Think An Idea