A Weekend Activity for the Whole Family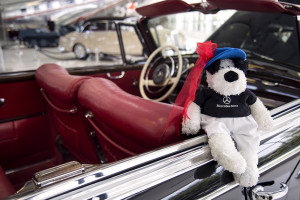 Lyon Air Museum "The Elegance of Mercedes-Benz" Exhibit
About the Museum:
Lyon Air Museum has just announced its summer exhibit; "The Elegance of Mercedes-Benz." The exhibit opens July 1st and will end August 1st. It will feature eight exceptional Mercedes-Benz automobiles from four different decades in Lyon's 30,000 square foot facility. Lyon Air Museum is a historical event venue in Orange County, located to the west of John Wayne Airport in Santa Ana, CA. The museum is well known for its collection of historic aircrafts, automobiles, and restored military vehicles, many of which are still operational.
Earliest Represented:
Four decades of Mercedes-Benz will be on exhibit during "The Elegance of Mercedes-Benz." The earliest represented car is the supercharged 1937 540K Special Roadster. This beauty has unique curves and chrome accents to cater to the demanding luxury clientele.  It is also equipped with an impressive 3.8 liter engine and four-wheel suspension to appeal to an audience who enjoys driving fast. The 540K on exhibit at Lyon is one of only six assembled with left-hand drive; it truly is a piece of Mercedes-Benz automobile history.
A Piece of History:
It's quite possible that the most impressive vehicle on showcase at "The Elegance of Mercedes-Benz" is the 1939 G4; a six-wheeled open touring car. This G4 was Adolf Hitler's personal vehicle; he drove it for the entirety of World War II. The body of the automobile was handcrafted from steel and is equipped with bullet-resistant glass. Amazingly, little restoration has been done to keep this vehicle in its original condition.  Visitors will be able to view the original interior and view a true piece of history.
Racing Heritage:
There are very few cars as recognizable as the gull-wing 1955 Mercedes-Benz 300SL, and this classic design continues to stand as a testament to the racing heritage of Mercedes. The Mercedes-Benz 300SL was the first iteration of the SL-Class grand touer, and the fastest production car of its day. Introduced first in 1954 as a two-seat coupe with distinctive gull-wing doors, it was later redesigned it as an open roadster. This model was the closest thing to a Gran Prix car; tailored to performance enthusiasts in the booming post-war The American market was a gamble for Mercedes but luck was on their side and in 1954 the 300 SL – 300was first introduced. The roadster was known for its 3.0 liter engine displacement,  Sport Leicht (Sport Light), and  top speed of over 160 miles per hour. It was the fastest production car of its time and featured the first production fuel injection system.
Don't Miss Out:
Lyon Air Museum visitors will be able to enjoy this month long exhibit, featuring Mercedes-Benz automobiles, guided tours showcasing some of the world's rarest operational historic airplanes, and many restored military vehicles on display.
The Break Down:
"The Elegance of Mercedes Benz" exhibit will last from July 1st to August 1st, which gives fans an entire month to view some truly historic pieces of art.  You don't want to miss out on this incredible exhibit the Lyon Air Museum has put on for visitors of all ages!
Lyon Air Museum is located at 19300 Ike Jones Road Santa Ana, CA 92707. Its hours of operation are 10 AM to 4PM, every day.  You can reach them by phone at 714-210-4585.
Prices are as follows:
General: $12
Ages 5-17: $6
Under 5: Free
Seniors & Veterans: $9
Groups: $1-Off
School Groups: Free
To purchase tickets visit http://www.lyonairmuseum.org/visit-us
To reserve a group tour visit http://www.lyonairmuseum.org/group-tours