What is DISTRONIC PLUS®?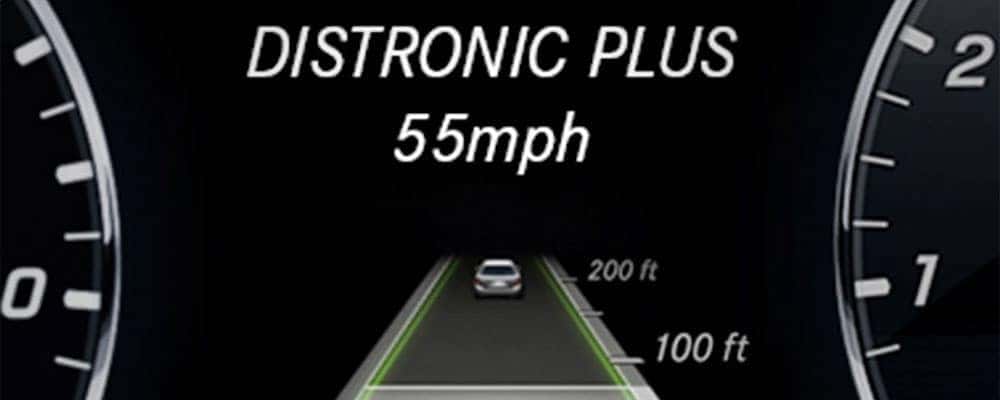 DISTRONIC PLUS® is an adaptive cruise control system that can automatically brake, accelerate, and keep a safe amount of distance from vehicles ahead of you. This feature is also paired with Steering Assist. DISTRONIC PLUS® with Steering Assist helps keep you from straying from your detected lane. Learn more about this safety feature and how it works below!
How Does DISTRONIC PLUS® Work?
DISTRONIC PLUS® works at speeds between 20 mph and 125 mph. To help your vehicle slow down or stop completely, DISTRONIC PLUS® can also use up to 40% of your vehicle's braking power. If your vehicle detects that more than 40% of braking power is needed, the DISTRONIC PLUS® feature will send you an audible and visual warning that alerts you to use more braking power.
How Do You Activate DISTRONIC PLUS®?
DISTRONIC PLUS® automatically starts itself. If you want to adjust the feature's settings, however, doing so is easy:
To start, you must accelerate to at least 20 mph to set your vehicle's cruise control.
Once your cruise control is set, push the lever to the left of your steering column up or down until you reach the point of resistance to change your speed.
To change the set distance between you and vehicles in front of you, rotate the end of the lever to either increase or decrease your distance between vehicles.
Is DISTRONIC PLUS® Standard?
Though Mercedes-Benz DISTRONIC PLUS® is not standard, it's available on many Mercedes-Benz models. Some of these models include the Mercedes-Benz E-Class, the C-Class, and the GLC.
Learn More About DISTRONIC PLUS® at Mercedes-Benz of Temecula!
Contact our team at Mercedes-Benz of Temecula to learn more about DISTRONIC PLUS® or any of our other exciting Mercedes-Benz technology features, such as Mercedes-Benzmbrace®. Want to test out our tech in person? Visit our dealership, conveniently located near Hemet and Riverside County.